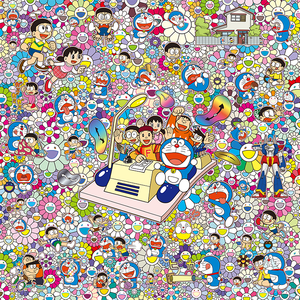 Artist: Takashi Murakami x Doraemon
Title: On an Endless Journey on a Time Machine with the Author Fujiko F. Fujio!
Year: 2019
Edition: 1000
Size: 720 x 720 mm
Medium: Offset print
This print is packed in the original packaging. This is hand signed by Takashi Murakami. 
Note: This will be shipped from Japan so the buyer is responsible for all import fees and taxes in their respective country.
If you have any questions or queries about this piece of art or would like to see more pictures, please feel free to email us at info@takaoka-art