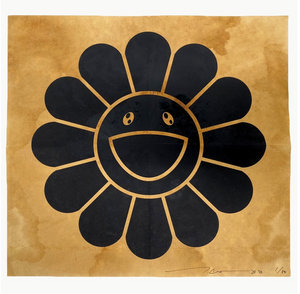 Artist: Takashi Murakami
Title: Coffee Blues, Black
Year: 2020
Edition: 50
Size: 293×303mm
Medium: Silkscreen on coffee filter paper
This print is packed in the original packaging. This is hand signed by Takashi Murakami. 
Please note each piece is unique and may have slight imperfections.
Note: This will be shipped from Japan so the buyer is responsible for all import fees and taxes in their respective country.
If you have any questions or queries about this piece of art or would like to see more pictures, please feel free to email us at info@takaoka-art.com
Takashi Murakami, the renowned Japanese contemporary artist, is known for his innovative and eclectic approach to art. One of his fascinating and lesser-known creations is his series of "coffee filter prints." This unique and experimental technique involves using ordinary coffee filters as his canvas, transforming them into intricate works of art.
Murakami's coffee filter prints showcase his exceptional ability to blend traditional Japanese aesthetics with contemporary pop culture elements. He often employs vibrant colors, intricate patterns, and his iconic characters like Mr. DOB and Kaikai Kiki flowers. The delicate and porous nature of the coffee filters adds a distinct texture to his creations, making each piece a captivating fusion of fragility and boldness.
These coffee filter prints serve as a reflection of Murakami's creative versatility, pushing the boundaries of conventional art mediums. By elevating an everyday item like a coffee filter into an art form, he challenges our perception of art and reminds us that beauty can be found in the most unexpected places.
In summary, Takashi Murakami's coffee filter prints exemplify his artistic innovation and ability to transform the ordinary into the extraordinary, offering viewers a fresh and unconventional perspective on the world of art.